Are You Travelling to Pakistan ? If Yes Read This Article.
How to
describe Pakistan?
If you want a word, then you
need no more than three letters: WOW.
India is without the hassles, Nepal, without the crowds.
On the
other hand is a little more complicated than that, and probably more than any other country on the planet, your opinion will
depend on what part (s) see.
While "wow" is certainly the impression most will visit northern areas, others could be forgiven for thinking a few four -
letter words after making trips to the south of the country where the journey is very different.
Wagah Border
The main attractions are the amazing Pakistani city of Peshawar market and the incredible, amazing and accessible irregular mountain landscape in the north end.
Few travelers venture to Pakistan - up seems to have become a dirty word within the circuit rating.
A bad image of the media, the tension with India, terrorism, earthquakes, poverty ... it is very clear why so many have left, particularly India and Nepal so close.
The main and most prominent feature of Pakistan's Karakoram Highway (KKH), not through the Karakoram Pass, nor is it something close to a road.
This incredibly useful way is the only reliable way overland between China and the subcontinent.
Originating in Islamabad and ending in Kashgar, China, the KKH is something every traveler should aspire to see.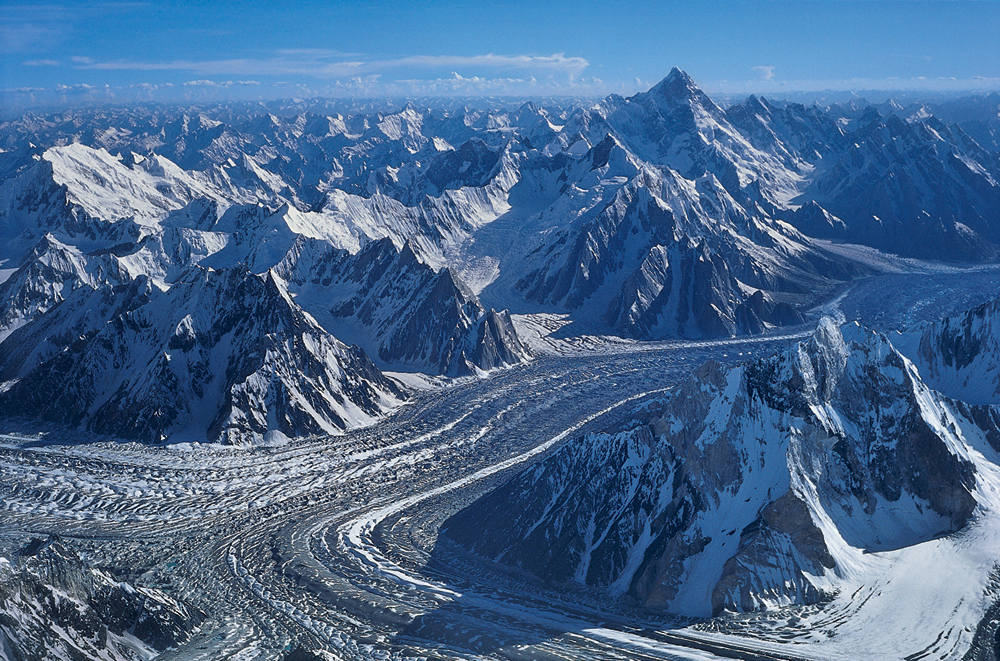 Baltoro Glacier and Karakorum range from Broad Peak summit (8.047 m), Pakistan
The rest of Pakistan is not all a dream.
Lahore and Islamabad area directly below can be loosely compared to India, and are not of great interest.
Further south, the tone of the country changes.
The ancient wonders can be difficult to appreciate and heat is oppressive as the country and people begin to change.
Islamic tones are stronger and cities like Karachi are inherently violent and are not a place for backpackers.
If you are thinking of risk through this part of the country (ie, going to or from Iran), security is a problem, but it is very feasible to do and a day / night in Quetta will be interesting.
Tribe people
Highlights
The KKH, particularly at a slow pace (cycling, for example), this area is relatively quiet and safe.
Karimabad around and Passu are impressive.
Peshawar and a trip through the Khyber Pass (although it is far from a relaxing experience).
The valley of Swat (when safe), Hindu Kush and the only culturally, Kalash Valley.
Any walk and people.
The closing ceremony of the Wagah border with India near Lahore.
Islamabad to be a simple introduction to the
sub-continent.
Good transportation system, and private transportation at a reasonable price available when needed.
• Negatives
Pollution Southern, Lahore (despite its interesting historical monuments) and theft problems.
The southwest is an inhospitable desert.
Security issues and constantly changing situation that has to be observed and studied in planning the trip.
The stability of the KKH - landslides and snow that closed this route for many months.
Old Mosque in Lahore
• Strategy Visa
Almost all nationalities require a visa.
If China comes from Hong Kong for one or Beijing, there are none available in Kashgar, or at the border.
Visas are also available in India and Iran.
Many choose to get them
in his hometown.
Costs vary: A multiple entry visa is highly recommended, a little more expensive, but no problems - allow travel to the two gems that are Kashgar and the road to there (China) and Amritsar (India).
Normally they are valid for four to six months.
Extensions are available only in Islamabad and take time (wait a whole day) and some problems.
• Typical Tourist Routes
Lahore - Islamabad - Karimabad ... continuing to the border and Kashgar in China.
Peshawar (the Khyber Pass), Chitral and Kalash Valley also have many trips, but in real terms, few get there.
The resort is Karimabad Pakistan and the only place you'll see many Westerners.
• Cost
You can make cheap travel less than $ 15 a day.
US $ 25 allow a good level of comfort.
Comparable to India, is a slightly better value.
• Money
Along the KKH cash is king.
Foreign currencies can be changed in some cities along the KKH, but do not expect anything from banks and ATMs.
ATMs are plentiful in major cities like Islamabad, Peshawar and Lahore, but international need a little searching.
Citibank, Standard Charter and AMB AMRO-are your best bets to try to locate.
Just ask in a hotel for the location of one or try a taxi driver.
CitiBank and Standard Charter are on the Visa Plus network;
AMB AMRO is in Cirrus.
These banks are the best option to cash travelers checks, but Pakistani banks will do it
for you with the discomforts.
Some mid -
range hotels and travel agencies accept credit cards, but the offices of airlines, such as Southwest China and PIA want Rupees (or dollars).
If you head north and plans to
hire a jeep or get a flight, carry a lot of cash.
The Euros and USDS are changed just as well.
When paying large transactions or USDS Euros are welcome.
• What to
bring:
north, depending on the time of year, bring warm clothes and decent shoes.
• Hot / Cold, wet and dry
The best time to visit the lowlands is from late October to February.
Wait a
few nice dry days, but some cold nights.
In March, the heat declines: the
end of June comes the rain.
In the area of Karakoram it is not necessary to
worry about the rain because there is not much, but if you at any time between June and August (high season), going to be cold.
During the spring (March-May) and autumn (September to November) it is warm in
the sun, but cold in the shade: the nights are freezing.
Actually it is good, the mountains are additional snowfall and almost no tourists.
Just take a good wool.
In mid-winter the sun is bearable, but the air is cold all day.
It is likely to be snow and the move to China will be closed by snow.
Around mid-October the number of tourists decreases, the leaves change color, apple / apricots are ready - just magnificent.
By far the most popular season is in the summer months of July / August.
The temperature is warm during the day and mild at night.
This is the peak season and the best time for a walk and a night in a tent is not as cold.
Hotels / flights are full, however, in the winter months many close.
• Environment:
As you might
expect in a country the size and geographical location of Pakistan, locals come in many flavors and shapes.
Afghans are easy to see around Peshawar.
To the north there is
a great mix of ethnic groups through the KKH is not uncommon to
find neighboring cities speaking different languages, many of which are
not even considered as Pakistanis.
Generally speaking Pakistanis are extremely friendly and welcoming.
As a
rule, people in large cities will be less pleasant.
Lahore, for example, has anything like the trouble that can be found in India, but as heads north along the KKH becomes more friendly with some ethnic groups around Passu and Sust that will be very welcoming for travelers.
And, of course, in many sensitive religious areas of the country, if you want to
be treated with respect and be welcomed, you should appropriately and conservatively dressed - both men and women.
• Accommodation
Lots of room in most cities.
Along the KKH almost any town on the right track will have a cheap guest house.
There are always cheap and very cheap options.
On the tourist route in the north you can expect some mid -
range options excellent value.
Travel a little off season for great savings.
Similarly, in places like Swat, prices rise much in the summer.
There are plenty of places to camp, but why you would so abundant and cheap options?
Many places have rustic cottages that are owned by the Forestry Commission.
Wait spectacular set in gardens and places to spend the night in the KKH views.
Pensions usually have lots of blankets, but in midwinter a sleeping bag is useful.
In big cities is the callous normal rate.
If you trekking long distances you will
need a tent (which can usually be arranged locally - is easy to solve in the main areas of trekking in KKH), plus lots of walks during the day if you are in good physical condition.
- hot water: you
get what you pay for
, and in the cheap rooms do not expect hot water.
In good (still cheap) accommodation in the tourist area, the hot water is not a problem.
- Average Cost: US $ 10-15.
It is easy to
find rooms in
the middle of this.
Great quality / value in many places, if the price is doubled.
• Media:
- Books: find a pretty good selection of western fiction and guide books in Karimabad and an excellent selection in Islamabad, including international journals and maps.
In Islamabad, the best book stores are located in the area known as F9.
It is worth noting that there is
a good job of second -
hand books on the border with India.
It is small, but will have some reasonable readings and guides to India, China, Nepal, Iran and beyond.
There are many great books on mountaineering in Pakistan (especially on K2) and any reading of "The Great Game" is worthwhile and interesting.
Recommended: The Great Game: On Secret Service in Asia by Peter Hopkirk
- TV: The hotels most expensive mid -
range (say, above US $ 20) will have satellite television with at least some international channels like BBC World, AXN and Star Sports (showing live matches / games).
• Communications
In the KKH, Karimabad has few Internet sites, but do not expect to
find many or any other.
In the big cities of the mountains there are plenty of places that are much easier to find and faster in cities like Islamabad (with its fair share of Western) than in cities like Peshawar.
International calls are easy from any little store called and are not too expensive.
• Food
Pretty good food readily available in most of the people who see a small stream of tourists.
Many hotels have good restaurants.
Lentils and bread are standard options.
There is
a large selection in cities like Islamabad.
Apart from this, international food is hard to find.
- Vegetarians: Many dishes include meat like lamb.
Fish is rare.
Vegetables are rare, but usually one on each menu, although it
is usually Dhal.
Eating food at roadside dhabas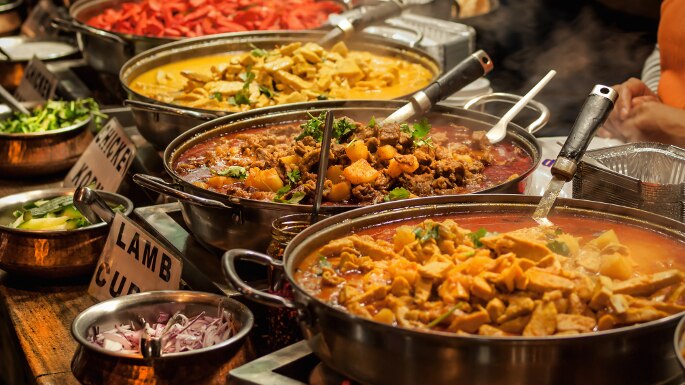 Meat is popular
• Language
As in India, English is widely spoken, making travel much easier.
• Health
Food poisoning does not seem to
be the problem may be in India.
The altitude can have an effect on some travelers.
• Difficulties and hassle factor
It's nothing compared to India.
Expect some mild discomfort and a million 'hello, how are you?'
in cities such as Peshawar and Lahore.
In addition to a few invitations strange shop owner ... but everything is very low profile.
Pakistan is very un-problematic (similar to Kerala).
Note that women often have separate stations bus and train lines, making life even easier.
- Solo Women: Not a perfect situation, but not impossible.
Wait to be under constant curiosity and, as in India, attract some unwanted attention.
Pakistani women rarely travel alone.
Things are much easier in the area of the KKH.
In cities like Peshawar, which is on the border with Afghanistan, though not 100% necessary, a light scarf covering her shoulders and ready to cover your hair when necessary (dupatta) and similar to a top light cotton tunic ( shalwar kamiz-) and loose fitting to hide the bust and hips / butt, will make life much easier, they are highly recommended, they are easy to get into a store and will give much higher levels of respect.